Tuesday, March 9, 2021 - 7:00pm
VIRTUAL EVENT: Join us for a conversation with editors Shmuel Thaler, Wallace Baine and Kevin Painchaud about their new book, 2020 Hindsight: Looking Back on a Tumultuous Year in Santa Cruz County, which takes a look back at the tumultuous year of 2020 with nearly 100 full-color pages that explore, through photography and words, Santa Cruz County's experience with the COVID-19 pandemic, social justice, wildfires, democracy, and community.
2020 Hindsight is a community collaboration with Santa Cruz Community Foundation, Community Printers, Bookshop Santa Cruz and many community leaders. This beautiful and meaningful collection of photographs and essays is edited by Shmuel Thaler and co-edited by Wallace Baine and Ross Newport. Themes include the trademark events of 2020: the Pandemic; Black Lives Matter movement; wildfires; and democracy.

All proceeds from the book will be donated to the Santa Cruz Community Foundation's Fire Relief Fund; free copies will also be provided to every high school junior student in Santa Cruz County, with a free curriculum. Learn more here.
Register for this free event here.
Purchase your copy of 2020 Hindsight below.



About the panel:

Shmuel Thaler has been a staff photographer at the Santa Cruz Sentinel since 1987 and was the 2016 Santa Cruz County Artist of the Year. His photographs have appeared in every major newspaper in the United States. Shmuel spent much of 2020 documenting the CZU August Lightning Complex fires, Black Lives Matter actions, the election and the pandemic for the Sentinel. His photograph of Santa Cruz Police Chief Andy Mills and Mayor Justin Cummings went viral and was seen by millions.
Shmuel received his BFA from the film school at New York University's Tisch School of the Arts. His photographs illustrate numerous books including his collaboration with the late Santa Cruz author George Levenson on Pumpkin Circle, which has more than 120,000 copies in print.

Wallace Baine is a veteran writer, editor, and columnist who has covered arts and culture in Santa Cruz County for the Santa Cruz Sentinel and Good Times, and is the co-founder and host of the Gail Rich Awards. He now works as City Life Correspondent for Lookout Santa Cruz.

Kevin Painchaud is a professional photographer. He has shot for various publications for the last 30 years. His photographs have been seen in various news sites nationwide, including ABC News, CBS News, CNN and MSNBC. Kevin is currently staff photographer for the online news organization Lookout Santa Cruz and previously shot for the Santa Cruz Sentinel. He also shoots for the magazine Growing Up In Santa Cruz. Kevin is also an Emmy nominated director/ producer and has been involved in film and TV for over 25 years.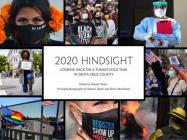 $24.99
ISBN: 9781637956403
Availability: On Our Shelves Now
Published: Community Printers - March 1st, 2021
---